+25 Casino Reviews
100% Verified
+28 Games Reviews
The Best Sic Bo Casinos for 2021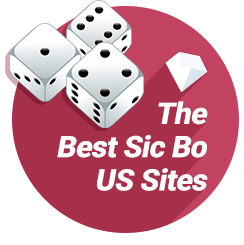 Sic Bo is one of the most entertaining casino games you can experience. Whether you love dice games or not, you will find online Sic Bo to be one of the best you can play.
It's true that most real money players are drawn to the glimmer of slots or perhaps other table games, but today I will give you several good reasons to consider Sic Bo yourself.
Far more importantly, it is one of only two dice games you will ever find at a casino. Therefore, mastery of Sic Bo could actually mean a little more profit opportunity.
Best Online Sic Bo Casinos in April 2021
How to Play Online Sic Bo
It is true – Sic Bo is a bit of a doozie to pin down at first. The game table looks as if out of this world. However, the good news is finding your foothold isn't going to take too long.
Plus, when you choose to play online, you will already have access to resources that help you catch up on anything you might have missed.
Futhermore, the game is a delight to learn and experiment with the different available strategies.
It all boils down to predicting the correct outcome of the roll of the dice. To begin your betting, you simply should select sectors that correspond to an outcome you think is the most likely to happen.
The dealer will then drop the dice in a small chest – which is called a cage – and shake it thrice before rolling them onto the table. At newer casinos the dealer will use an electronic dice shaker to roll the dice.
You claim a win if you have successfully predicted the roll of the dice or the sum total of the dice.
What Bets Are There Are in Sic Bo?
Most Sic Bo casinos will offer a standard version of the game which comes with the same layout, payout percentage, odds to win and a house edge. Before you even play for real money, you can always remind yourself to test the fun – free version of the game.
When you are ready to actually get started, it's a good idea to make sure you understand the game inside and out.
Small and Big Bets
Sic Bo usually offers two main types of betting groups – Small and Big bets.
Your Small bets are when the dice sum is no greater than 4 and 10 and Big bets are any total sums that range between 11 and 17.
You can even think about these kind of bets as you would about the Roulette's outside bets – the payout is similar at 1:1 and you have a nearly 50% chance of hitting a successful outcome.
In other words, a Sic Bo casino usually has a 1.39% house edge on you and your chance to win outright off this bet is 48.61% – not too shabby at all.
Total Bets
Some players prefer to optimize their potential payouts by taking riskier decisions. Notice how I said "potential payouts." This has to do with the more volatile nature of betting on individual sums.
Yet, well-seasoned Sic Bo fans are aware of a few corners they can cut. For example, 4 and 17 are usually the ones that have the highest payouts, but they also come with the steepest house edge, because the casino is aware of the fact.
The upside is that if you get these bets correctly, you will land a massive 60:1 win, which will turn even a modest $2 bet into a small fortune. Yet, the question is if you are prepared to take the risk.
That is a question of how much money you have in your bankroll. Here is a quick list of all sums and their potential payouts:
It's good to know that the potential payout could differ slightly from one game to the next. Our recommendation is to always look up the specific payout for each game. But even if you don't, you will still know the proportional payout in the very least.
Combination Bets
Combining bets is another popular type of wagering. A combination bet asks you to successful predict two of the three numbers that the dice would roll.
If you have made a combination bet of 2 and 5 and you roll 1, 2 and 5, the combination bet comes through and you have won.
This bet pays out 6 to 1, meaning that a $2 bet would be multiplied for a total payout of $12.
Single Bets
Another type of wager to consider is the single bet. You are betting on an individual number to come up on any of the three dice, which definitely makes the game slightly less risky, although you should still not expect a 100% win.
Besides, you should keep the odds in mind. The chances of a number appearing on one dice is 2 to 1, but then again – rolling all three dice with the same number would take some begging of the fates, because the odds here are 200 to 1.
Once again, the payouts on this type of bet will depend exclusively on how many numbers turned up in the end. For a single number, you get paid 1 to 1 and for two numbers, you will get 2 to 1. For three numbers, the payout is 3 to 1.
This is perhaps one of the safer and slightly more exciting bets, but odds of 200:1 don't really justify betting big amounts hoping to hit the same number on all three dice, for example.
Yet, the Single bet is considered a low-risk bet similar to Small and Big bets.
Double Bets
Another popular type of bet is the Double. Now, as the name suggests, you are betting on a specific number to appear twice on the dice. So, if you bet a double 3, you would need to hit 3,5,3 or any combination that consists of two 3's. However, keep in mind that the actual chances of this event happening are 71 to 1 and not necessarily the largest.
Triple Bets
If you are interested in upping the ante, you will find the Triple bets to be more your wheel house. You can choose from betting on specific triples or any combination of numbers. How do the two bet types differ? It's quite easy in fact.
With a specific triple, you are betting on the same number appearing on all three dice. Remember when I talked about the odds of the same number appearing on all three dice? It's pretty much the same at odds of 216 to1.
However, instead of collecting a paltry 3 to 1 payout, a triple bet would actually yield closer to 180 to 1, which is a very generous return indeed.
Conversely, you can consider the so-called "any triple bet", which means that you are just betting on any number appearing on all three dice. That is any number between 1-6. The chances of this happening are 35 to 1 and the payout is 30 to 1, which is quite decent in fact.
Sic Bo Casino's House Edge
Whether you choose low or high-risk bets is entirely up to you. Yet, it's often handy to know what the house edge is for a regular online Sic Bo casino game, that metric ranges between 2.78% and 18.98%. According to the variations of Sic Bo available, this number could go slightly up or down depending on the developers' decisions.
Even then, you need to realize that unfortunately, Sic Bo is a game of pure chance and the best way to deal with it is to take it in terms of risk, i.e. some decisions carry a higher risk as opposed to others, that are still risky, but provide you with more wriggle room to turn a lucky outcome.
A Winning Sic Bo Strategy
To win at Sic Bo, you will need to be both savvy about the game – and acknowledge that it takes luck to win. Once you have come to this simple realization, you are most likely to have fun and enjoy the outcomes far more than you normally would.
There are some simpler rules you can follow to make sure that you are always ahead of the curve when placing your Sic Bo bets. Here are our top tips.
It so happens that we all take a back beat, but what's important is to keep an open mind about it. Don't chase losses and don't become a victim of the feared gambler's fallacy. Instead, focus on purely enjoying yourself and even falling back on some low-risk bets.
Speaking of, that brings us to our second type of advice.
This doesn't refer to your budget, but rather to the types of bets. Small and Big Bets offer the lowest risk in a game of Sic Bo as the house edge is soaring just slightly above the 1%.
Because of that, you are better off choosing between the two groups of available numbers on the table, although this could easily get a little underwhelming.
Still, when you turn a bit of a profit, don't hesitate to have a few riskier bets for the sake of excitement and fun.
There is a sort of security in knowing the most likely outcome of a bet – or at least understanding the risk it carries.
Then again, a cheat sheet is like cutting a few extra shortcuts, and thanks to your ability to play online, you should definitely pounce at the opportunity of using all available resources.
A cheat sheet would allow you to quickly reference the risk and potential outcome and payout for each bet you are considering.
Don't Miss Out on the Sic Bo Bonuses
Sic Bo doesn't grab the headlines right away, there are a few bonuses here and there you may grab. Sic Bo may be immediately considered as a game you can play in the Welcome Offer, for example, that's why re-reading the T&C's is always important.
Even on its own merit, though, online Sic Bo is highly entertaining and it provides you with sufficient opportunities to enjoy yourself around the clock. Don't miss out on any bonus coming your way, though!
A Brief History of Sic Bo
Like many other great casino games, Sic Bo originated in Asia. It was a favorite pastime in China and it spread across the region until it finally made its way to Europe and from there on – into the United States.
While the game has been a pastime without any well-documented roots, today it is very popular in certain gaming hubs, such as Macau. When English speakers adopted the game, they created specific variants better known as Grand hazard and Chuck-a-luck.
I do recommend sticking with the traditional version of Sic Bo – whether you play online or offline.
Live Sic Bo
While casinos didn't bother much with the live version of the game in the past, their attitude has changed quite a bit.
Today, Evolution Gaming is one of the studios which makes a point of offering you an authentic, and as the studio calls it, a super-engaging online Sic Bo experience.
The game even comes with a multiplier, which adds an extra excitement to your regular gameplay and sets you up for an exciting experience through and through.
Glossary and Terms: Understanding Sic Bo Like a Pro
There are really only a handful of terms you need to be familiar with, and that mostly includes the names of the bets.
Outside the cage and the few variants that exist, you don't have to worry too much about any specific betting terms when playing Sic Bo.
For the sake of being thorough, I will arm with the ones that will make you shine at any table – at a land-based casino or even in chat as you exchange a few lines in the chat.
"Dai Su" stands for the original name of the game in Asia, making you a true connoisseur of Sic Bo.
Another cool term is "Dice Face," which shows the predicted number.
Speaking of the names of the game, you will probably hear Sic Bo being called "Lucky Dice"
Sic Bo FAQ
What is Sic Bo?
Sic Bo is a Chinese game of chance that is played with dices. The concept is very simple and it relies on predicting the correct outcome of the roll of dice.
What is the highest bet you can make?
The betting limits will depend on the version of the game you are playing, but most options allow you to bet up to $100, although some VIP and high-roller editions might allow you to even cross this threshold.
What are payouts like for online Sic Bo?
The biggest payout you can get is 60:1 off a single bet, although you can place multiple wagers and push your potential winnings. However, keep in mind that the lower payouts, i.e. 1:1 and even 2:1 are usually the safest route to go.
What are the best options to bet on for a beginner?
Stick to Big and Small bets which give you an almost 50% to win or in other words – a flip of the coin. Low-risk bets, though, are a perfect fit for any beginner out there and therefore a preferred type of wager.
Is there a strategy that I can use to win more at Sic Bo?
Not so much a strategy as using common sense. You will want to avoid certain mistakes – such as chasing your losses for example. On the flipside, you can optimize your gameplay by making smart bets and never betting too much so as to run out of funds.
Can I play Sic Bo online for free?
Absolutely – that is the entire point of having online Sic Bo, i.e. accessibility. You can play as much as you want for free, but sooner or later, it will get a bit dull. Once you have learned the ropes of the game, though, you are ready to jump into real money play!
What is a Sic Bo Cage?
The Sic Bo cage is the small chest that the dealers use to shake the dice three times before letting them roll out on the table and revealing the outcome of the roll.
How many dice are used in Sic Bo?
Three dices are used in a traditional game of Sic Bo.
Is Sic Bo easy to learn?
Very much so. You will be done with the rules in the matter of minutes and you will be able to place your first wager shortly after.